THIS POST HAS BEEN CLEANED UP! :wee:
Android 18 & Xicor
Banned at MG, so Blizzard Blade & IGN get to see these before anyone else. Edited from Nico Robin and SSJ Goku, respectively. 18 looks kinda bad, but trust me, she's a hell of a lot better now than she was before :eew:. Xicor is from Toyble's Dragon Ball AF, for those of you who don't recognize him. Ask if you need a link.


Einar Emporium
Always was my favorite squad in HeroScape.. but I really don't like how it came out here... oh well, at least I tried. :p Eve / Zoro edit.
JUS Tien
Edit of Goku. The first of the four costumes is just Goku, but the other three Tien has actually worn at some point or another. I made this a while back but saved it in a stupid place, so I didn't even see it while cleaning my docs.

Organization (Name Pending)
Important to Grange's backstory, these are a group of people dedicated to hunting him down and killing him. Names NO LONGER pending, They are Gunnar, Aayla, Nerris, Shale and Vynx.
Old Stuff
I cleaned out my docs and found a bunch of stuff I forgot to post, check it out. I have no idea how old any of this is, so bear with me if they suck.
JUS Crono
The JUS Crono Kfire and Phratt made was inspired by my failed attempt. Edited from Goku.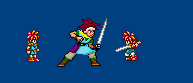 Chibi Grange
Was edited from a blank base for a contest. Won first place, but it was prolly rigged. :p

Fastpoke & Fastbro
Now sprited rather than photoshopped. Who else remembers this guy?


Hank (Madness Combat)
A quick edit I made a while back. Henchman by Kylinator, or Aiden as he's now known.

KH2 Dark Riku
I had a dream once, that showed Dark Riku as he would've looked in KH2. Pretty plain... KH2 > KH1 Dark > My Dream > My dream and the vest Ziku insisted it needed.

Sonic/Blade Texture Hack
I showed this to Androu1, Leon, TeadyMKII and BigFort2 in hopes of getting him as a texture hack in Brawl, but none did it. Oh well.. ._.

JUS Grange
Not that good, but... meh. Edited from Kenshin. I'm not sure if I'll do any more for him, but... yeah. Nothing else to say.

Gunnar
Gunnar, bieng made again for TLOK after bieng on hold for ages. His full name is Akash Gunnar, but he just goes by Gunnar.
Stance:

Godspeed slash:

Backhand slash:

Forward Slash
Random Pose
Expect more soon.
JUS Jak ll
Jak is one of my favorite game series, and i hate how the only sprite of him on the internet is a shitty Megaman edit. So i made him... Daxter soon.
JAK SPRITE JAK SPRITE JAK SPRITE
EDIT: Completed his stance, though i will be tweaking it a bit (shoe shading is inconsistent). Just to let you know i AM working on Jak, and i WILL be making some custom poses, too (after i use everything i can on Vegeta's sheet).
KA Waiyu
Waiyu, the mini-boss from Kirby's Dream Land 2 that gives you the Cutter ability, remade into KA style. Im not TOO happy with this one... shading seems unnoticable. Oh well :p 100% Custom
Mudkipz
This was originally to be a JUS Mudkip (severely oversized, yes.), but it sorta blew away when i tried to shade it. I like how it looks now, though. Traced.
JUS Megaman
I saw this JUS character, and he just SCREAMED "Shonen's Megaman" to me. Well... I tried.. Didn't turn out to well :p

TT-13
Originally meant to be a Cubot in SSF2, but I'm not sure if we're still on for that or not. >_>
(Click for full sheet)
Vegeta Edits
Super Saiyan 4 Vegeta, Majin, Buu Saga, Scouter Vegeta, and Trunks. New: Baby, WhatIf SS3 & Updated Scouter.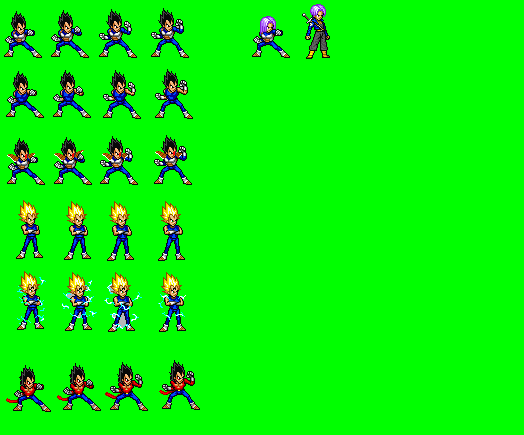 FRIGGIN AWESOME BOWSER
ITS FRIGGIN AWESOME, DONCHA THINK?? No? Me neither, but it was pretty epic at the time.
Piccolo
Piccolo for SSF2 expansions. Requires animating, but I'm working on it.
(Click to see full sheet)
Bowser's Castle
WAS meant to be a track in Sirtopia's Mcleod Kart, before he canceled it... oh well.
(Click to see full image)
Mr. Game and Watch Kart
WAS made for use in Mcleod Kart, before Sirtopeia canceled it... I've seen a lot of people wanting this done on the interwebz, you can use it, but credit me.
Waddle Dee no. 879
_Joejoeman_'s fan character. i edited a waddle dee sprite into this, Joe used it as a base for 879 in Mcleod Kart.
Grange Kart
Grange's sheet for Mcleod Kart.
Grange's Original Sheet
Grange's sheet, in Smash style. Was meant to be an SSF2 expansion until I realized it was crap. :p
(Click to see full sheet)
Vynx
a Yusuke edit, and my second fan character. Yes, he ties in with Grange's story.... I'm just too lazy to post it.